Natick Youth LAX News for Parents and Players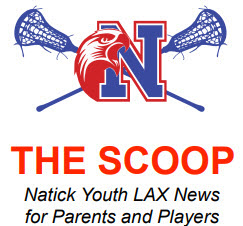 THE SCOOP
Natick Youth LAX News for Parents and Players
Girls & Boys Programs—July 2023
Opportunities & Events
NATICK LAX SUMMER CAMPS
Register for our fun-filled summer lacrosse clinics hosted at the Kennedy Middle School turf field.
9:00 a.m.- 12:00 p.m.
Ages: 6-14
Cost: $225
BOYS CLINIC: July 17-20
GIRLS CLINIC: July 24-27
Questions? Email nkittler@natickps.org or text 508-333-0788
HELP WANTED
Help grow our team of talented and enthusiastic family volunteers!
NYL is currently recruiting for an events planner to manage Natick Days, seasonal events, and our end-of-year celebrations.
Email nylcommunications@gmail.com
2023/2024 PLANNING
Help us plan for next season by letting us know in the attached form if your player will stick with the program.
Please list your player's name, your contact email, and your player's incoming grade
Attachments: